Race Person will direct you where to begin on the sidewalk next to Rose Circle Park
At Mile 0.15 turn onto The Concrete Beltline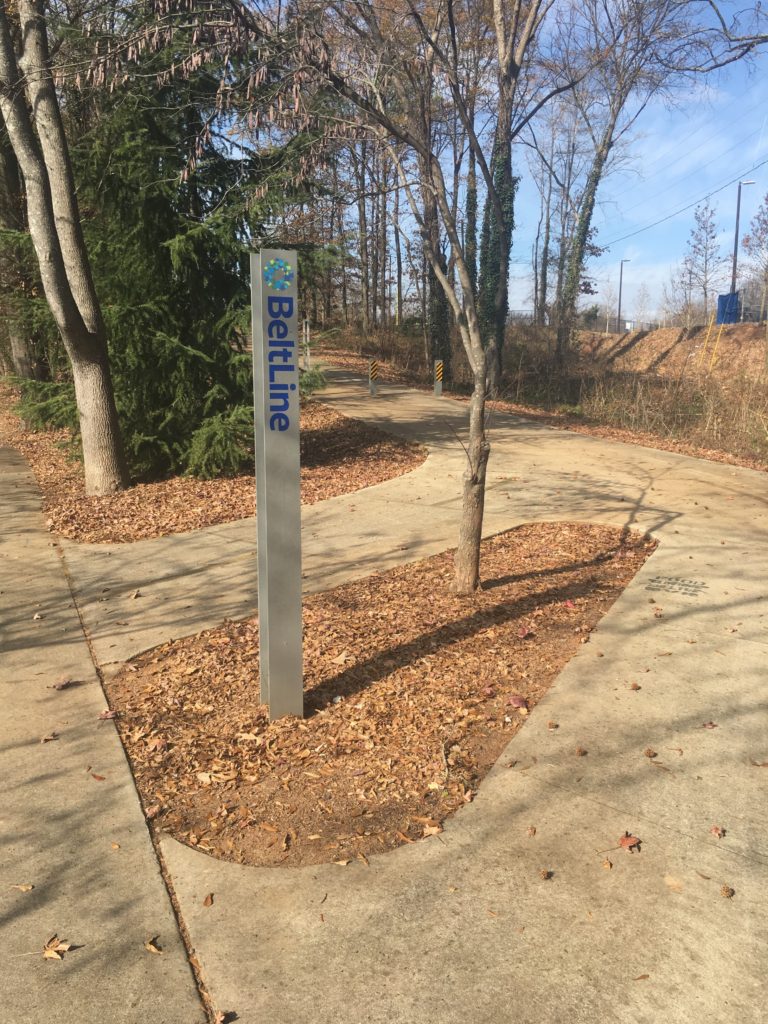 Run up the hill and go Left on Lawton at Mile 0.22
Cross the bridge and go Right on Donnelly at Mile 0.37
Then Left On Beecher at Mile 0.57
Stay to right of Beecher Hills Triangle on Beecher Road at Mile 2.3
(Follow signs to The BeltLine)
Right on Bollingbrook Drive toward Beecher hills school at Mile 2.4
Continue onto the The Path/Beltline at Mile 2.78 (and into Hampton Beecher Park)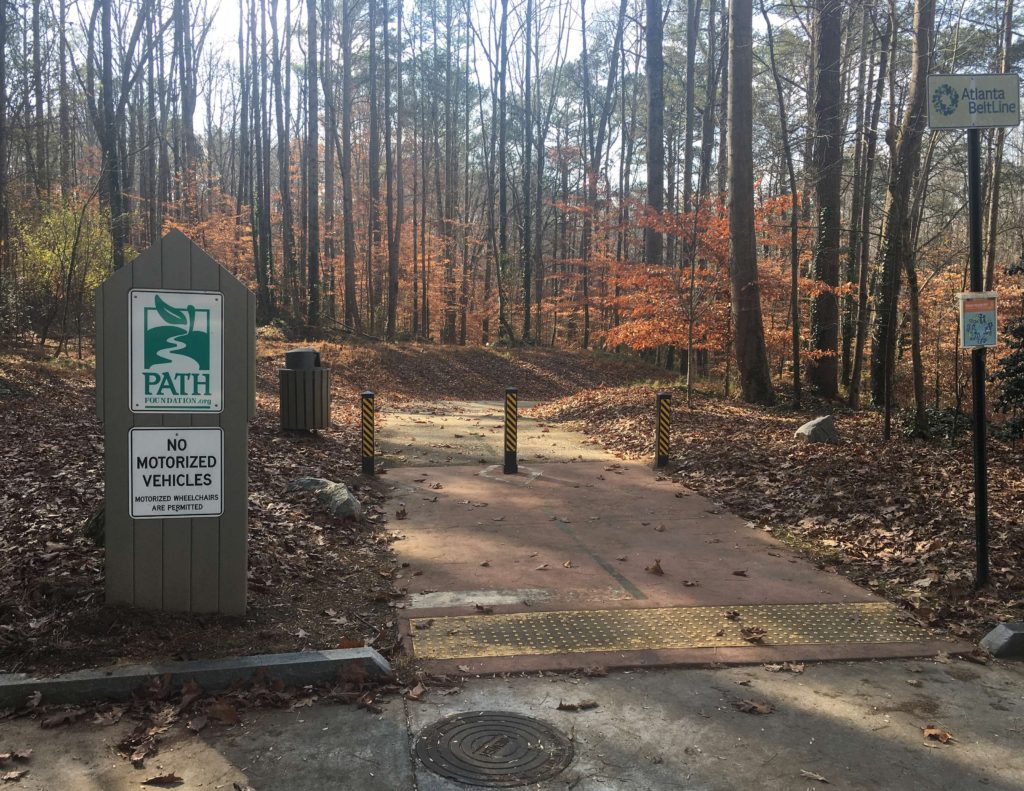 Take this until it dead ends into a T.
Then go left towards Lionel Hampton Trail at Mile 3.12
Then Right on Lionel Hampton Trail at Mile 3.4
This ends onto Willis Mill Road at Mile 4.0
Go right onto MLK at Mile 4.4
Left on Fairfield Place NW at Mile 4.6 (Continue to follow signs for The Path)
Left on Carver at Mile 5.16
Right on Tiger Flowers Dr Mile 5.18
Right on Croecus Ave at Mile 5.75
(This takes you into Anderson Park)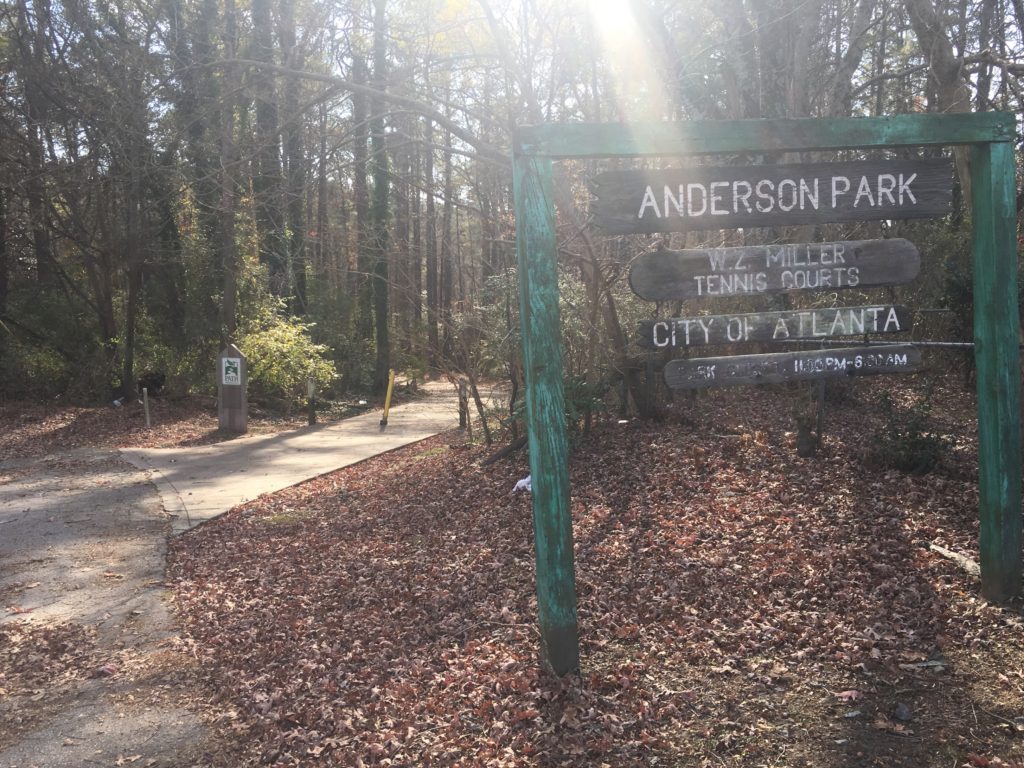 Go through the park and it will end in front of Kipp School and go left (Calloway Drive)
then Right on Anderson at Mile 6.29
Then Left On Verbena/Waterbury Drive at Mile 6.49
This wraps around and takes you to West Lake Marta Station at Mile 6.85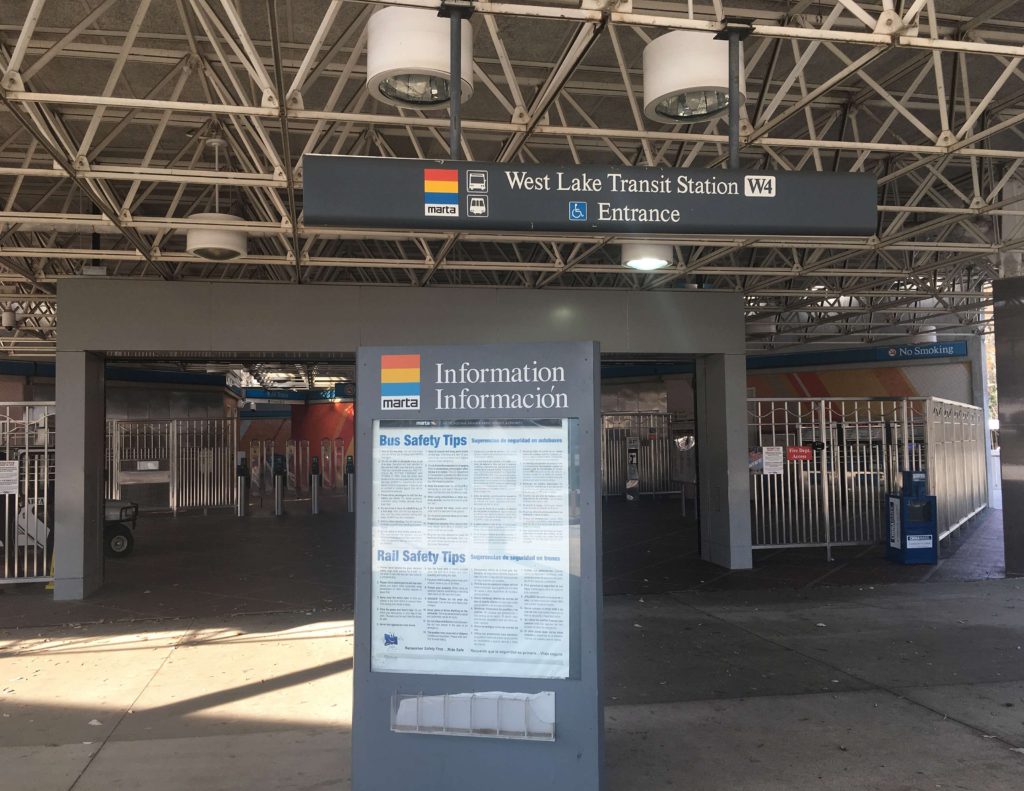 (You may want to pause your GPS as race mileage stops)
Take MARTA east bound and get off at the Decatur stop.
Get off the train and head towards Church Street.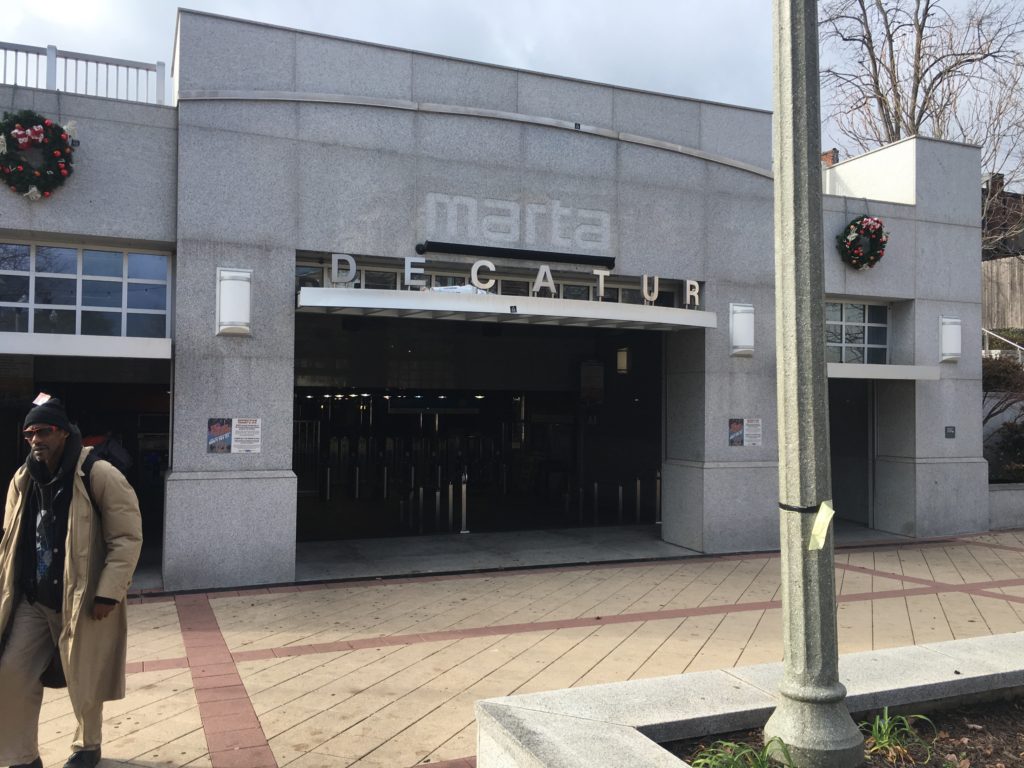 Go right at Church Street when you exit the Train station.
Take a right onto East Howard Street (The Path/Stone Mountain Trail) at Mile 7.13
Left onto Rockyford at Mile 8.71
Immediate right onto College Ave for .28
Do NOT Veer left as it curves at Mile 9 – GO INTO THE PARKING LOT IN THE PHOTO BELOW
Instead, go straight, passing the Aramis Realty sign into a parking lot, it will turn into a gravel, then dirt path shortly after the parking lot. (Train tracks will be on your immediate right)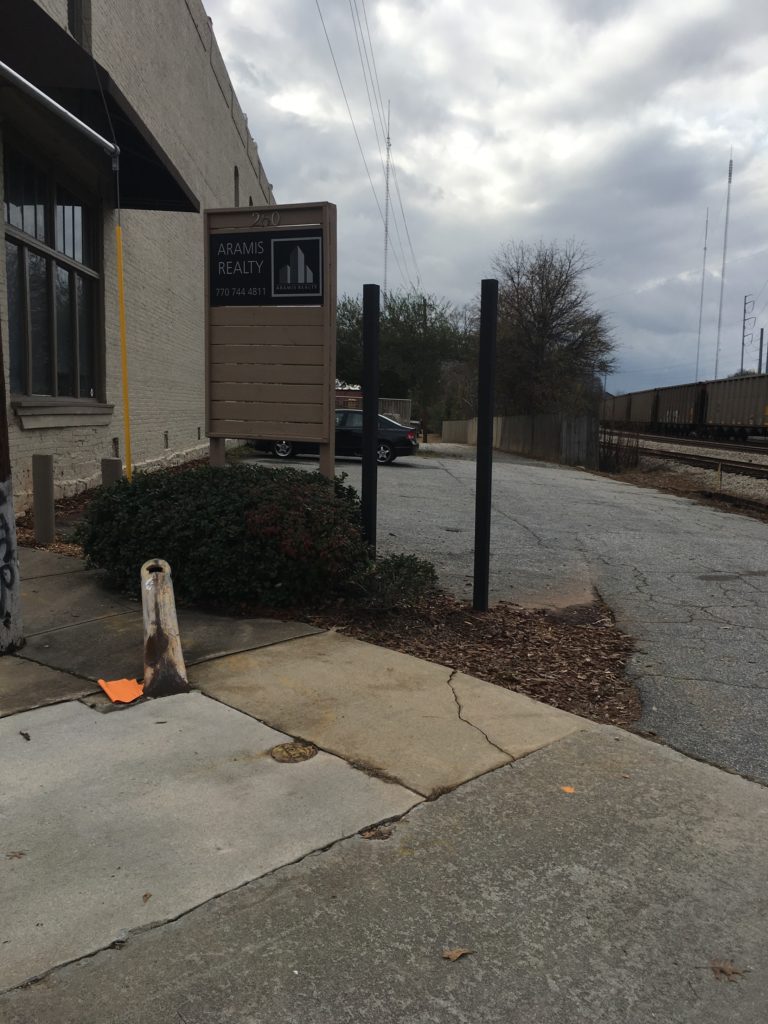 It will then end back onto some concrete again at Mile 9.21
You will come to a fence at Rogers street and turn left Mile 9.35 
Pay attention and turn right across from Fred Toomer Elementary School at this sign – Mile 9.74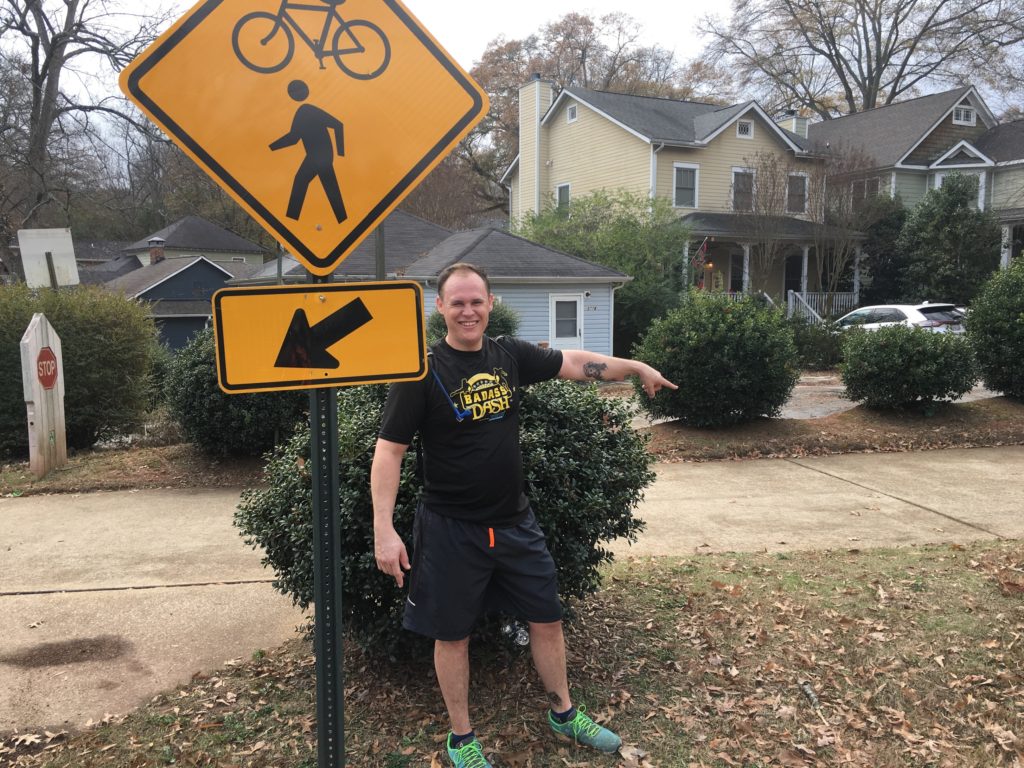 You are now on another part of The Path. It will eventually dump you onto Woodbine Ave at Mile 10.04
It will wrap around and crosses Hosea Williams Avenue at Mile 10.15
You will see another sign for The Path and pass Coan Park on your right
At some point this road becomes Arkwright
Take this all the way to Moreland at a Valero Gas Station and go left at Mile 11.14
Immediate Right onto Memorial Drive
Take this all the way to Harper Station at Mile 11.68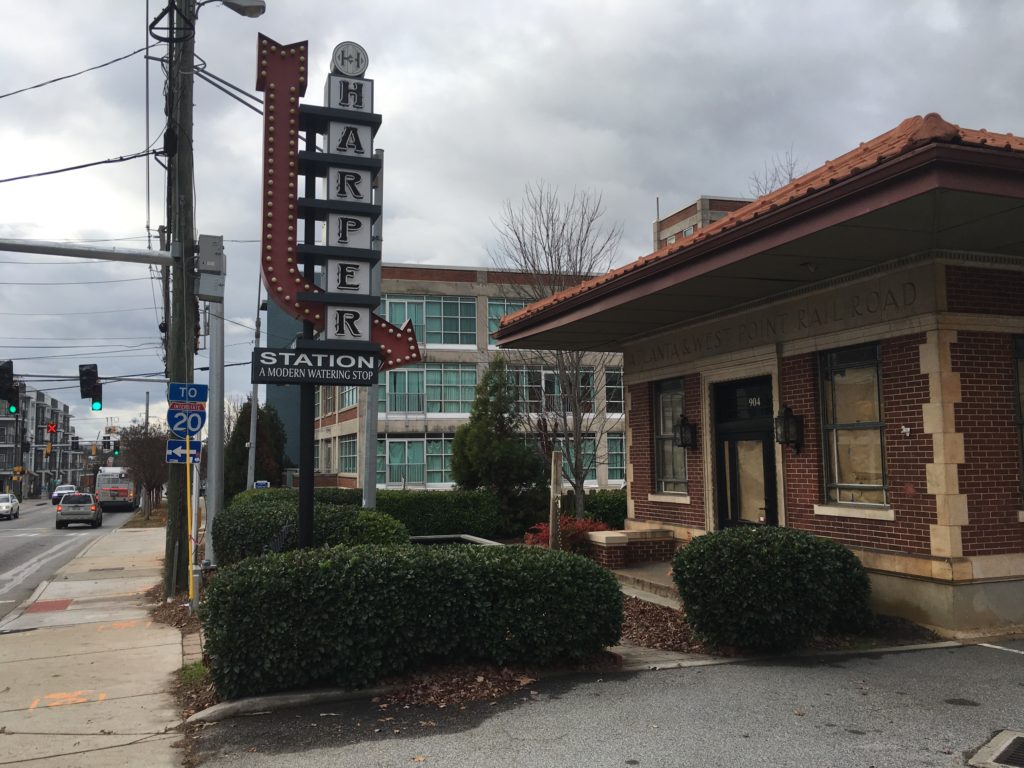 Go left onto Bill Kennedy Way and cross Highway 20
You are now approaching the brand new, but already famous, Glenwood Kroger. You can stop here to refuel on supplies or go to the bathroom. (Just don't say Matt sent you)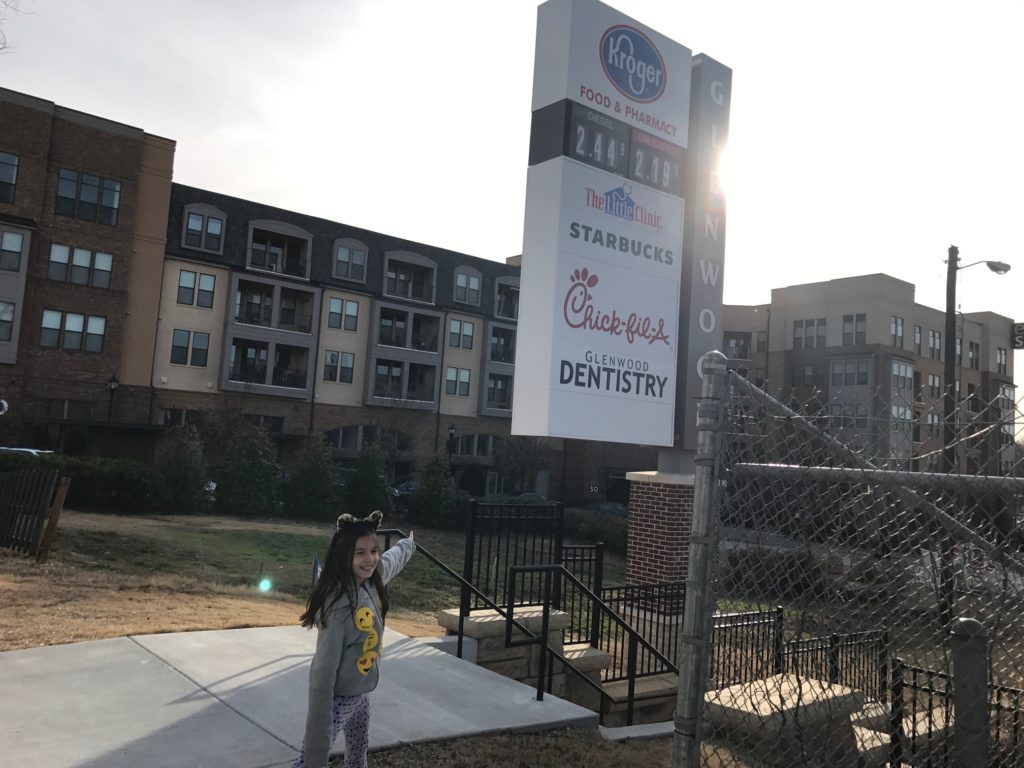 Continue onto Bill Kennedy through downtown Glenwood and it deadends into Glenwood Ave.
This is where you rejoin an unfinished portion of The BeltLine.
You are at Mile 12.17 when you enter trail again and stay on it.
You can put these directions away for a while if you choose, because you are staying on this track/trail until mile 16 ish which is a major course change
Cross Boulevard
(also known as Clayton's Icebox)
at
Mile 13.38
The Trail takes you past D.H. Stanton Park to your right at Mile 14.13
You will then traverse through Tetanus Tunnel.
You will cross Pryor road at Mile 14.88
There is an Exxon where you can refuel or pit stop if need be.
Just be sure to get back on the trail where you left off.
At Mile 15.75  go over Metropolitan Parkway.
This is also known as J.D.s Last Stand.
Potential PIT STOP for FOOD, WATER, RESTROOM as there is a Chevron, Subway, etc
Keep going and be looking out for these boards shortly afterwards.
Then there is a Major Course Change shortly after these boards so pay attention.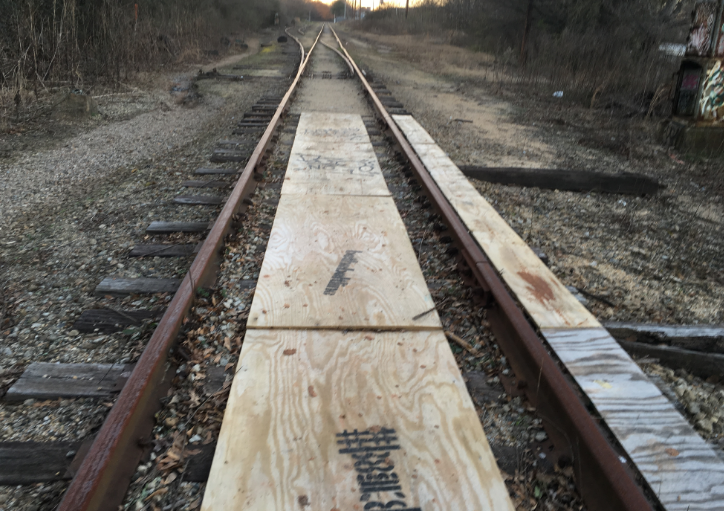 When you see BOARD THE BELTLINE boards, you are getting close to the next turn.
You will then see some tires to
MAKE A RIGHT to some woods for a hot second then you are into "Angel's Back Yard", which is newly completed concrete BeltLine.
The concrete will lead to dirt at Allene Ave.
You will cross Allene Ave and continue on the dirt path.
You will see a green and blue gate and YOU ARE AT THE HOME STRETCH!
The large Atlanta Phoenix Structure is there, along with a porta potty.
Mile 16.8ish turn right at the brick wall and realize your dreams of being finished are coming true!
Pass the start line and continue on to the magic picnic table and finish!