**Final Update July 13th.  5:15pm.
Be sure to click here to also check out IMPORTANT NOTES AND FAQ
Start line – Make a right on the Westside Beltline Trail
Stay on unpaved section and DON'T go up concrete ramp.
Eventually it starts to be paved again as you approach Rat Tunnel. 
You will now stay on this new section of paved West Side Beltline until it deads ends into Washington Park.
When you hit Washington Park, concrete dead ends into a bench. Run right past the bench towards the tennis courts.
Pass the tennis courts and now run straight into the woods way. (Not to the left down the hill)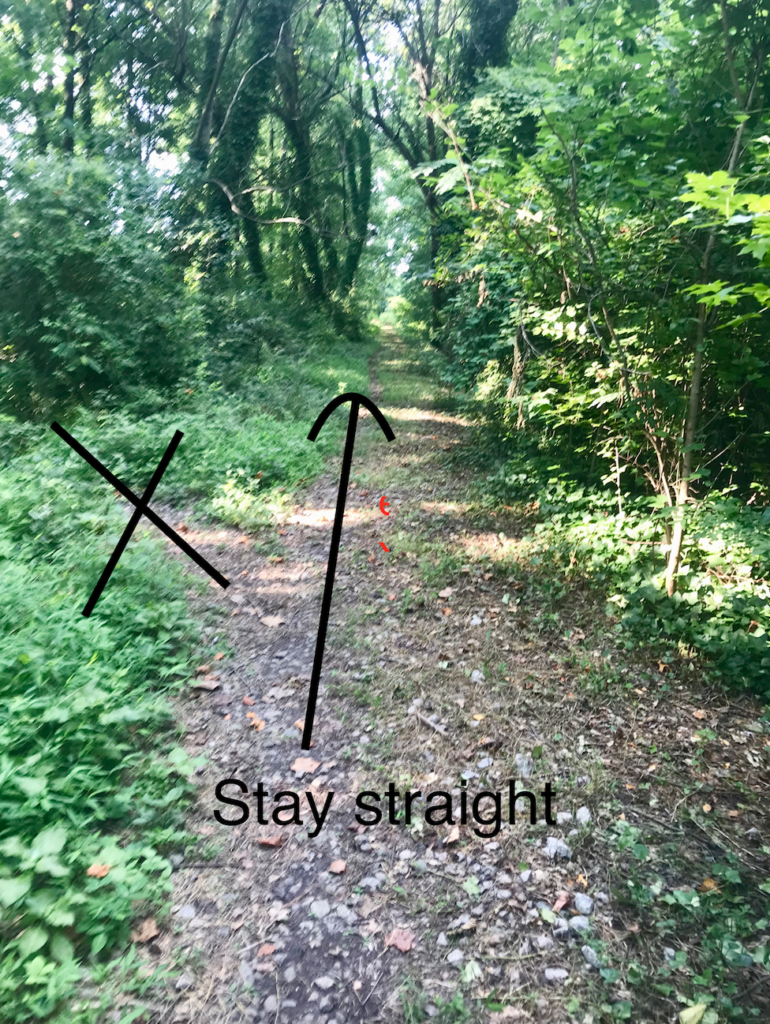 On this for a short bit. Til it ends at a house. Then go left to get out of the woods and then right onto Stafford Street. Then a quick right onto Mobile.
Take Mobile Street over the Marta Line and then and immediate LEFT onto Mayson Turner Ave
Then Left on Joseph E Boone and then IMMEDIATELY cross the street and run across to the fence and next to a shut down store and the guardrail.
Climb over guard rail and run through some litter covered trail. Follow the flags down to
"The Wire Apartments"
Short jog past these apartments .
Turn left at last building then take a quick jog. Begin to look for more flags and take a right over this gate. WARNING it has some barbed wire. Be Careful.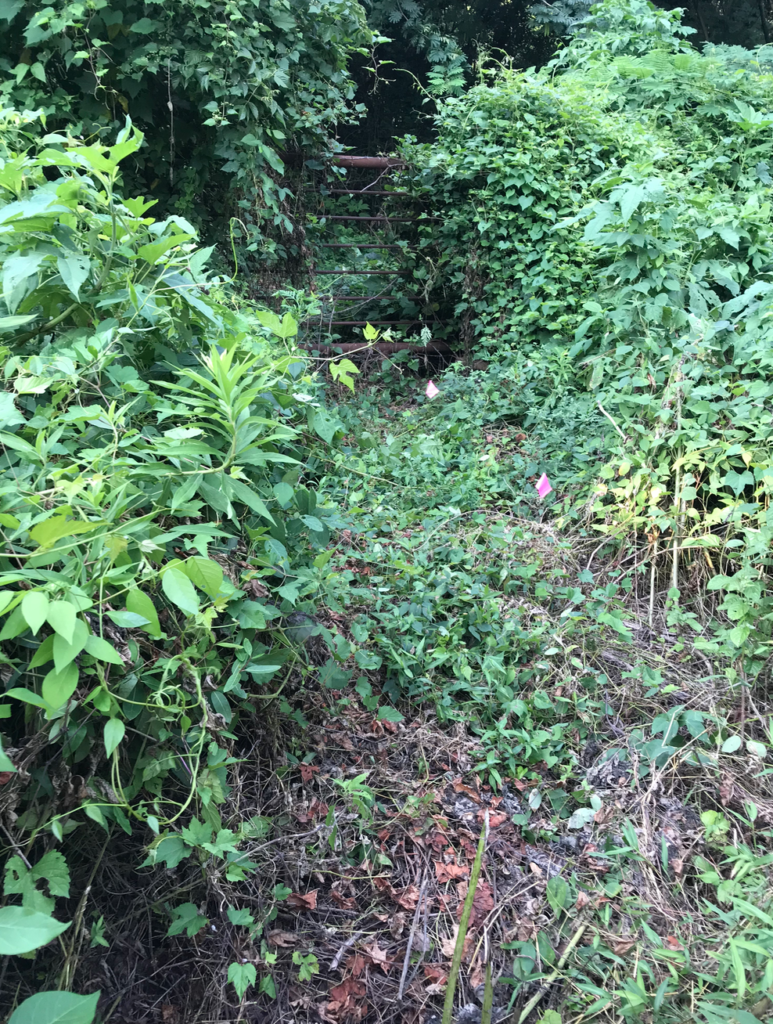 After you hop this fence, head towards the MARTA fence on your right.
Hug that fence and keep going.  Then up a short steep hill with MARTA rail still on your right.
You then come out onto the railroad tracks and go right towards Maddox park. (You will now be following train tracks for the next several miles)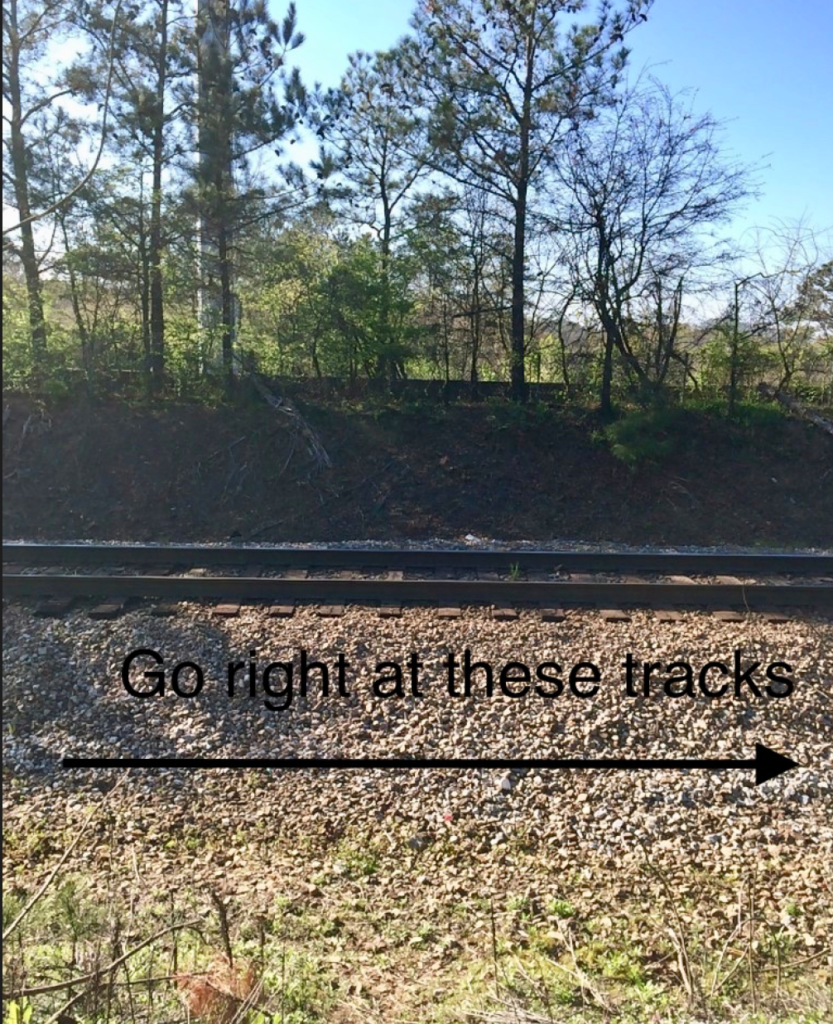 Next you will come upon Stand By Me Jr. Bridge.
You may cross this bridge easily.  However, there are trains that come through the area. So pay attention.
If you don't feel safe. You can go down to the street and climb up the other side, it will take longer obviously.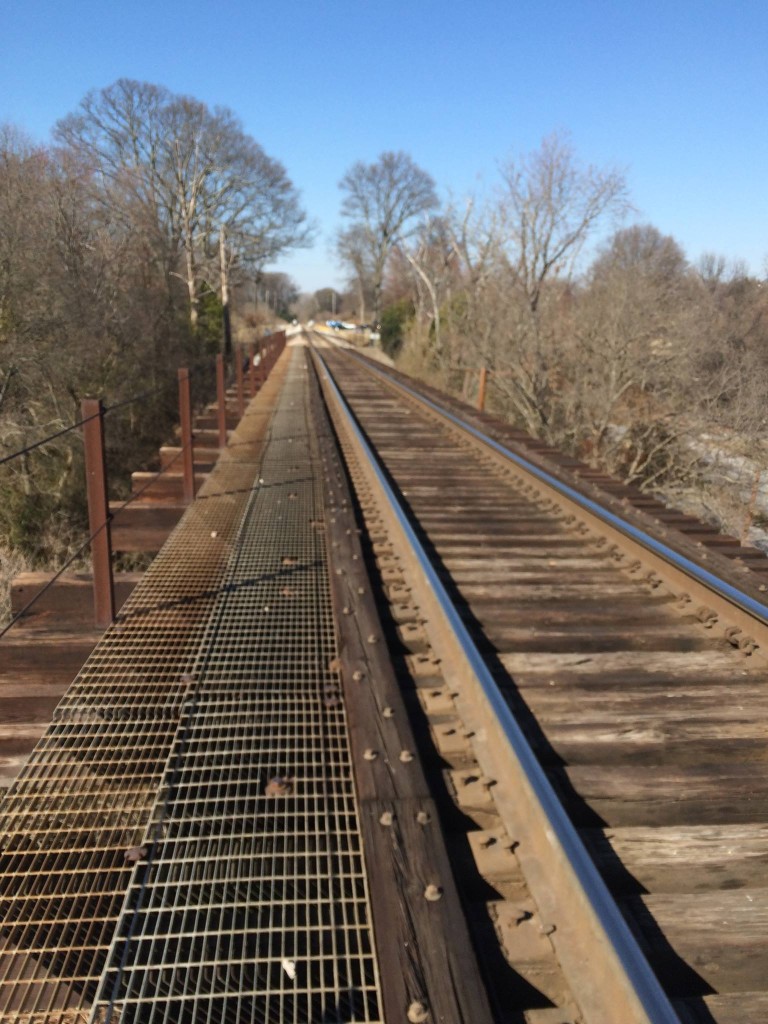 You will pass Maddox Park on your right. (There may be some locals hanging out there, they are harmless)
Stay on the path you and you will pass Fulton County Animal Services on your right.
Stay on track as you approach the first of Double Tunnels.
Make sure no train is coming…then run through 2nd tunnel fast.
When 2nd tunnel ends at Mile 4.7, stay to the bend on the right .
(IF YOU ARE AFRAID OF TRAINS OR THE TRAIN IS SITTING THERE FOR A LONG TIME, CLICK HERE FOR YOUR ALTERNATE)
Then sharp right shortly afterwards at four way intersection towards Marietta Blvd.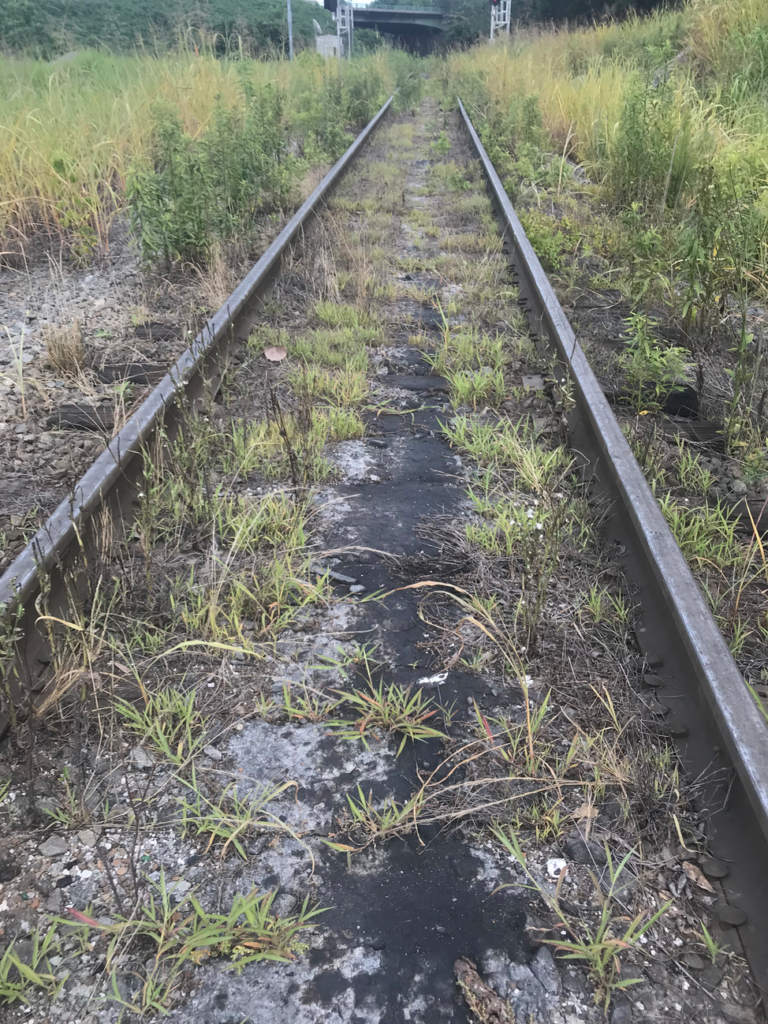 Go under Marietta Blvd.
Pretty soon you will be able to see the Skyline of Atlanta from a view you never have before. Enjoy it.
A little bit later, you will see a big silver box that says "Top of slide b owa-3.5". When you see that box, stay on the tracks that curve left. (There are two tracks that go to the left. They both go where you want so take either one)
A half mile later, stay on the tracks straight. Do not bear left . It will then bend right towards Howell Mill and Northside Drive
POTENTIAL WATER AND NUTRITION STOP.
Just after running over Northside Drive, you can easily get off the track to your left. You can see a building called Onyx. Exit there and go right on Northside Drive. There is a Shell gas station less than .1 miles up on the right. Be sure to come back the way you came so you don't miss any course should you choose to make this stop.
Next you will go over the paved Northside Beltline and Ardmore Park, but don't go down there, stay straight on the tracks.
Say on the tracks straight for the next 2 miles until you come to this point in the photo. (Should be an aid station with friends, if not, its cause they got kicked off) Make a right up this hill.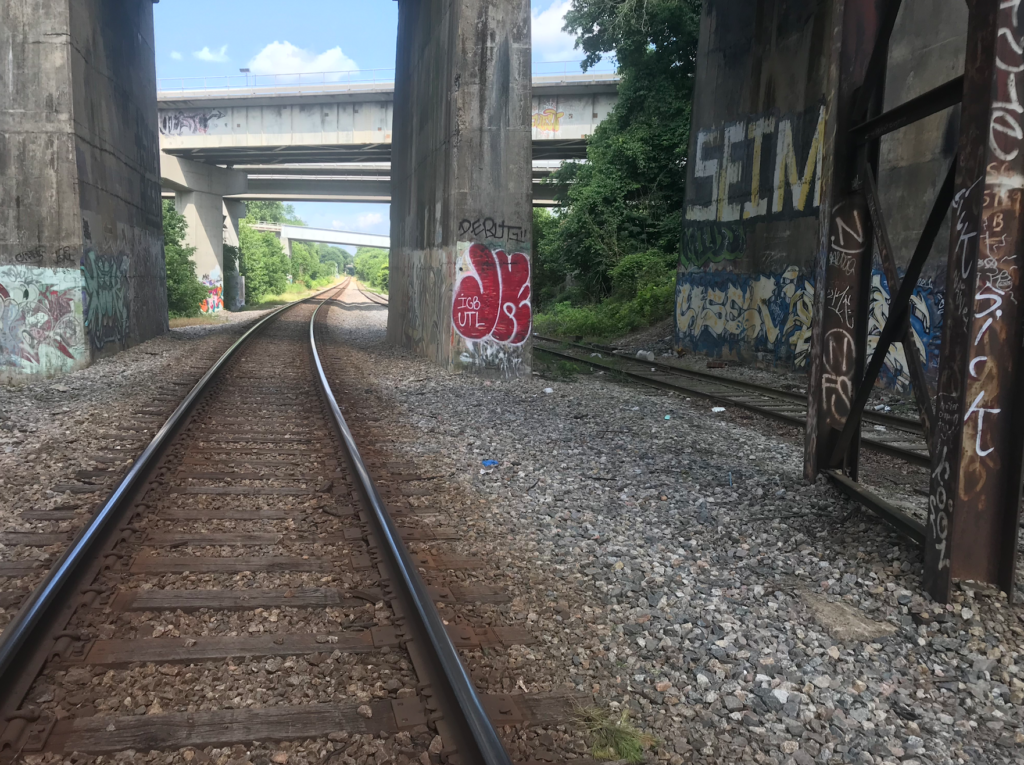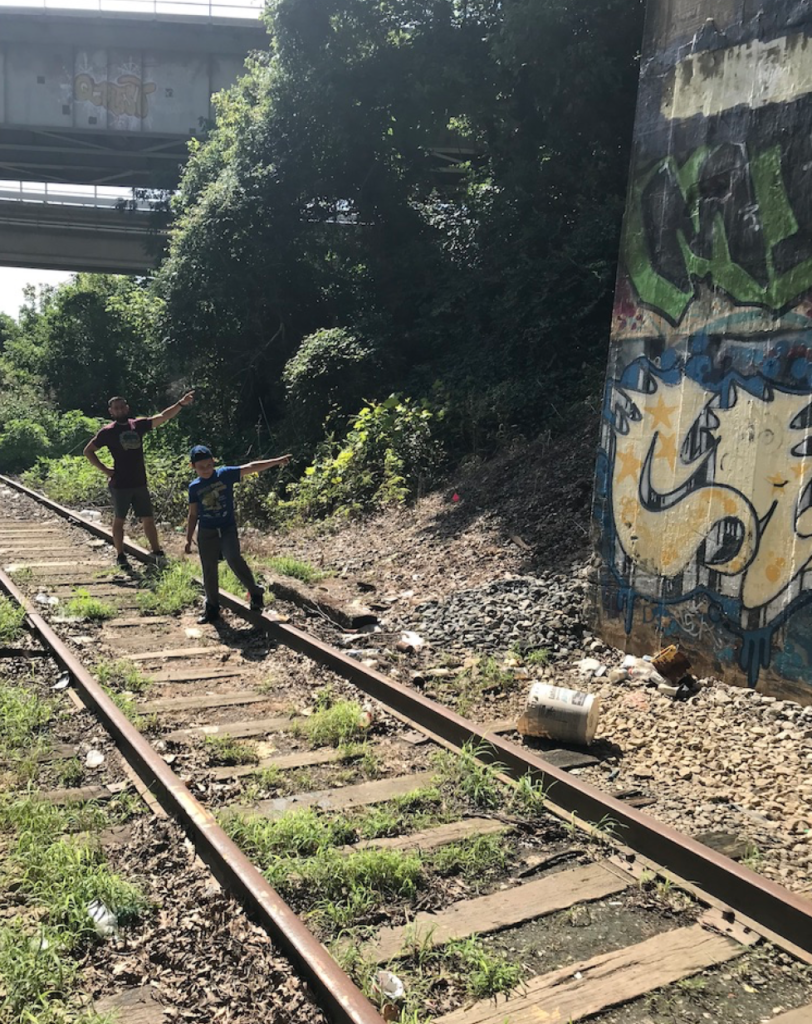 Then left at the top of hill at the yellow post towards Armour Drive. (not back over the bridge you just went under)

Run along the tracks farthest to the left.
The tracks curve left under the Marta Line and then under I-85 towards the Ansley Golf Course (and eventually Piedmont Park)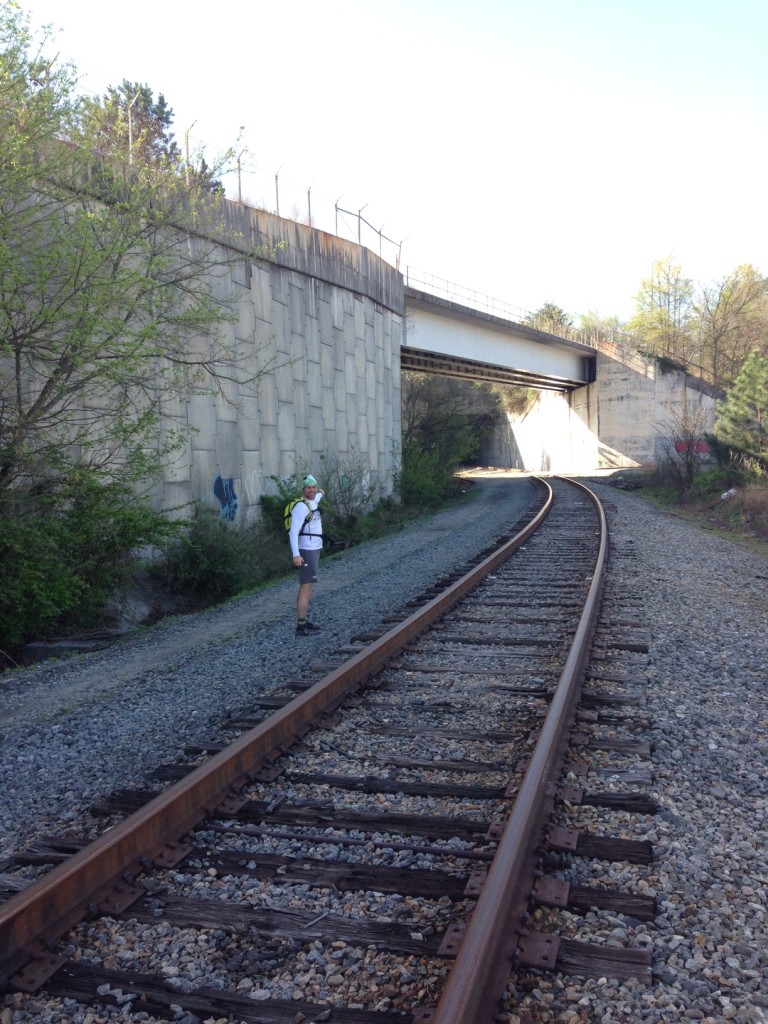 On your way to Ansley Golf Course, there may be a fence or two to go around or over.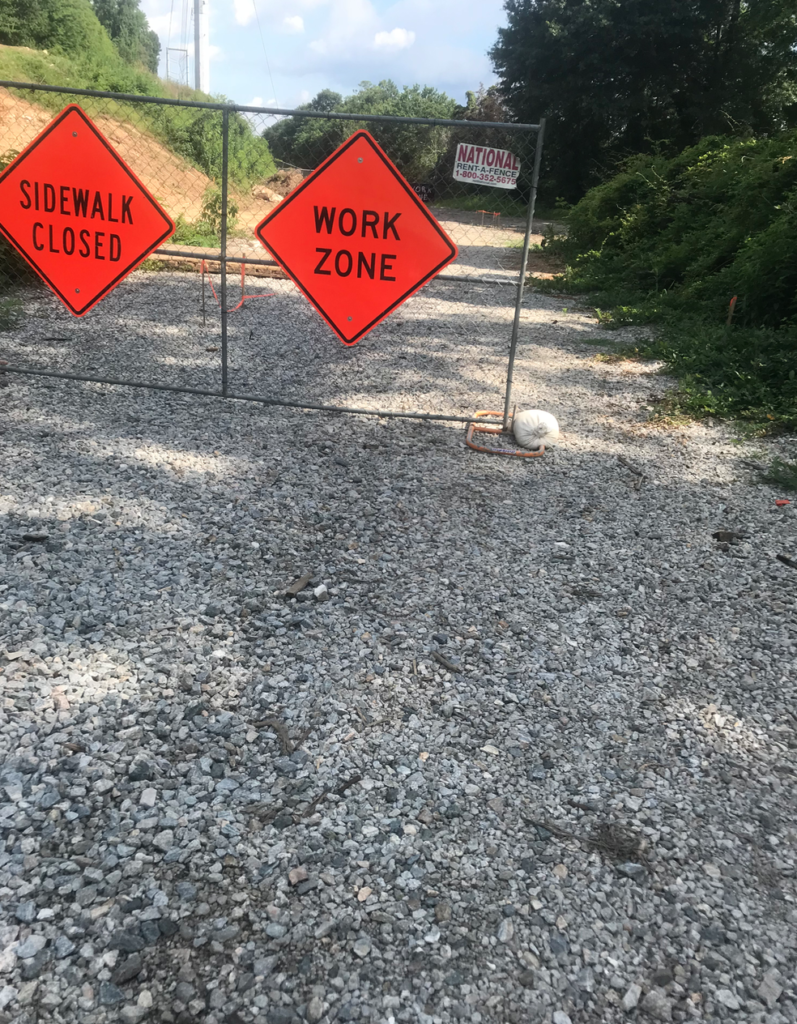 Eventually, you will see these Blue Gates which means you are at Piedmont Park (and about half way done)
Amsterdam Walk Shopping Center is on your left at Mile 10.9. Stay straight on the gravel road. Do NOT venture right into Piedmont Park
You can leave the trail and head into Amsterdam Walk and find a restroom or a place to refill water if need be. Be sure to start back where you left the trail as to not miss any part of the course.
Eventually, You will run into the corner of Monroe and 10th. This will be the beginning of the paved (and highly populated) East Side Belt Line. There are several places here to find hydration, nutrition and restrooms.
Wave to people, say hello. Enjoy that you are among the human race again. This is the most people you will see all day along your route. You are going to pass Ponce City Market to your right.
We highly recommend snagging a King of Pops there!
Another mile towards Krog City Market. The Beltline now extends past Irwin/Lake. So stay straight on it, past Bell Street Burritos, etc. to your left.
This section of the finished BeltLine will end shortly thereafter. Go up this staircase and left onto Edgewood Ave.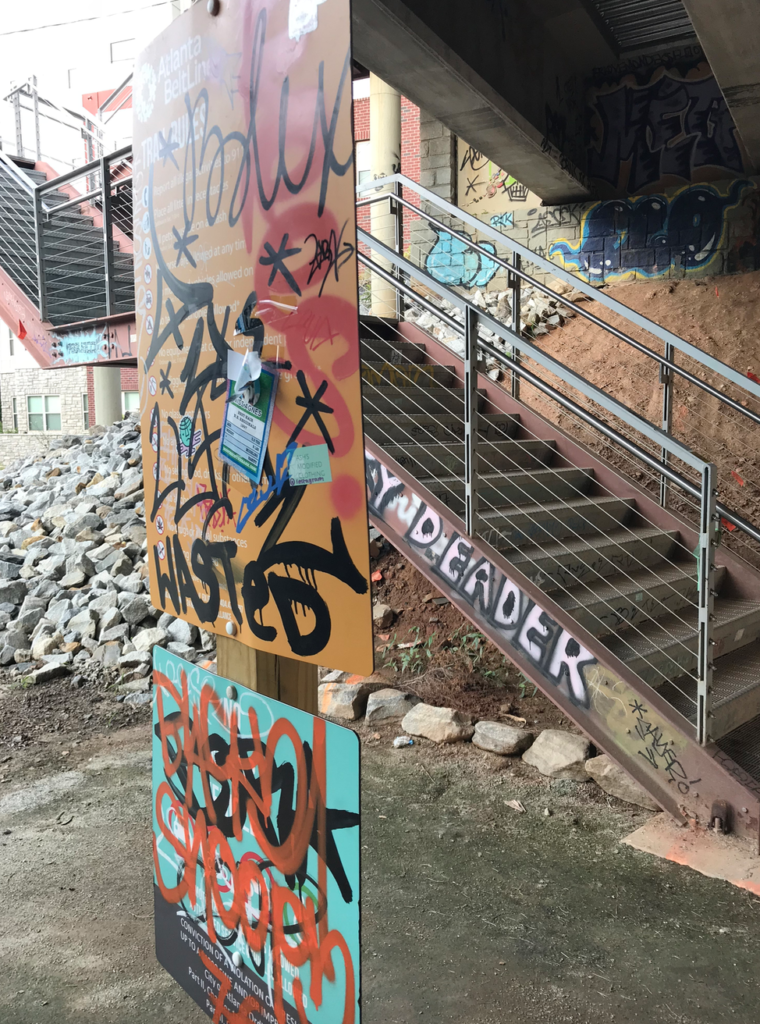 The right onto Krog Street and into The Krog Street Tunnel.
When the tunnel ends, Krog is known as Estoria, and there you will turn LEFT onto Wylie Street.
Stay to the left and look at all the new pretty art work. (and probably "models" taking photos there).
Travel on Wylie until you see where a sign says "Stein Steel". Go right back on to some finished Beltline.
This is just before Flat Shoals Avenue.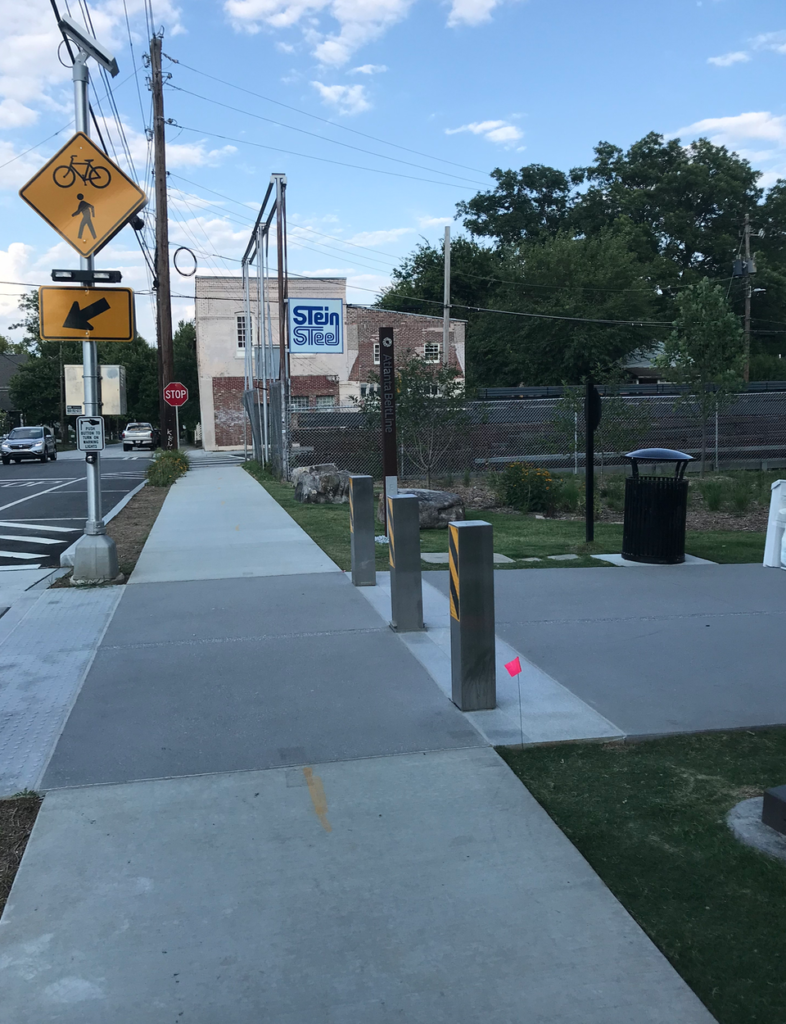 This will be paved for a short bit, before becoming dirt again. May see some construction signs. Just got past them. You will eventually hit Muchaco/Golden Eagle on your left where trail ends onto Bill Kennedy Way.
There is massive construction happening, big movie theatre, etc. You will be cross over Interstate 20.
You will hit downtown Glenwood.
Lots of places to stop if you want including Kroger to your right.
Either way, Bill Kennedy deads end into Glenwood Ave. This is where you rejoin The Trail (It is known as The Beltline SE Trail at this point). They have just cleared a ton of area as in this photo.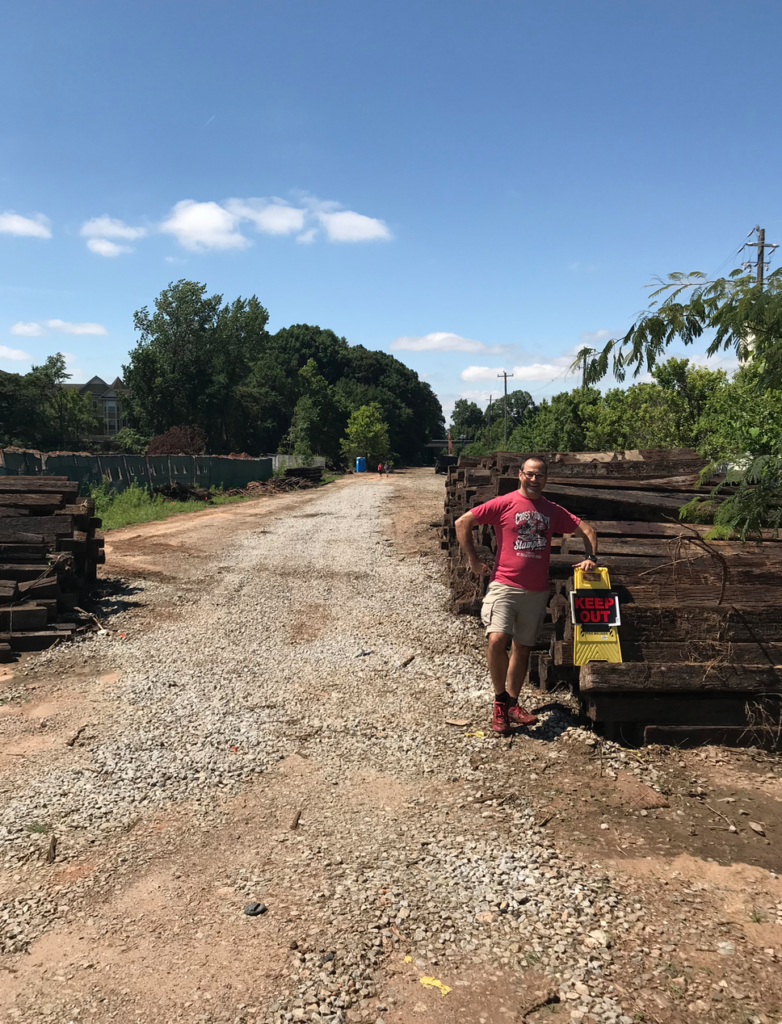 You can put these directions away for a while if you choose, because you are staying on this track/trail until the last turn at Mile 20.
There may or may not be man eating kudzu along this part of the race.
Cross Boulevard
(also known as Clayton's Icebox)
Pass D.H. Stanton Park which is off to your right.
Traverse through Tetanus Tunnel.
You will cross Pryor road. 
There is an Exxon where you can refuelor pit stop if need be
.
 You will continue on and you will go under Interstate 85.
Next you will go over Metropolitan Parkway.
This is also known as J.D.s Last Stand.
Potential PIT STOP for FOOD, WATER, RESTROOM as there is a Chevron, Subway, etc
Another Kudzu covered bridge, but you are almost out of all kudzu!
Keep going and be looking out for these boards shortly afterwards.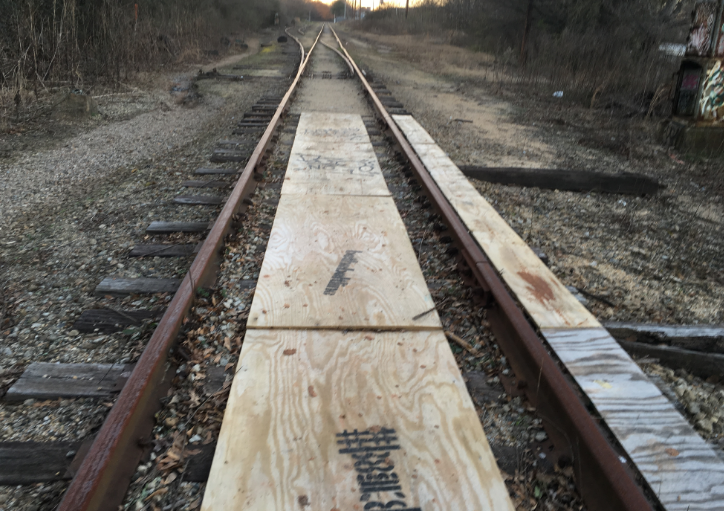 When you see BOARD THE BELTLINE boards, you are getting close to the next turn.
Look for some red flags.
Make a right to some woods for a hot second then you are into "Angel's Back Yard"
Cross over Allene Ave and see The large Atlanta Phoenix Structure is there to the left.
Keep on and on under a tunnel and then….
Final turn by the huge mural that says GREETINGS FROM THE WEST END.
Turn right and then take a quick right down the stairs.
Run across the parking lot over to Monday Night Garage where you will see The Finish Line table.
Touch the magic table and you are done.